Understanding Team Dynamics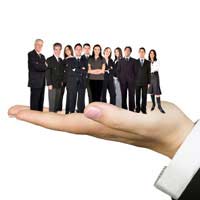 There are unseen forces that operate in a team. These natural forces are known as team dynamics and can have a strong influence on how a team reacts, behaves and informs.
For instance, in a small team there may be two individuals who have a very strong friendship. This friendship can have an influence on the rest of the team in a number of ways, both positive and negative.
Even the layout of an office can have an influence. If a wall of cupboards is placed across the middle of an office it could affect the flow of communication and split the team into sub-groups. Of course, a change in personnel can cause a shift in team dynamics too. For instance, if an individual is removed from a team, the remaining team members may be drawn into a change of behaviour.
A manager must be able to identify team dynamics and he can do this by looking for forces that influence team behaviour. These may include, among others:
Team roles.
Personality styles.
Office layout.
Tools and technology.
Organisational culture.
Processes, procedures and methodologies.
Each team member will bring different talents, perspectives, values, and experiences to the work of the team. The more each team member knows about the other team members, the better he can tap into the talents and experiences of others for better team performance.
A manager has to look for the team dynamics – the natural forces at play – and decide whether these forces are having a positive or negative impact on the team. Intervention is then needed to make the impact of those dynamics more positive. For instance, in the example of the wall of cupboards hindering communication, a manager can reposition the cupboards in an office layout that will encourage communication.
Commitment And Motivation
The impact of a strong friendship within a team will not be as easy for a manager to assess. On the plus side, if the friends communicate a lot together it may lead to other team members being drawn into the discussion. This can result in a good social feel to the team make people feel good about being a part of it, leading to better levels of commitment and motivation.
On the down side, a strong friendship could make other team members feel excluded. They may be less likely to include the friends in decision making and the team could split into two sub-groups. Key information may then reach only sub-groups rather than the whole team and miscommunication can lead to misunderstanding and poor performance.
Team members of different personality types will build relationships and deal with conflict in different ways. Fail to take these differences into account and an action taken to improve a relationship may end up undermining it instead. These personality differences can show up in how team members communicate as well as how they like to be communicated with. Also, people of different personality types will have different approaches to doing work and will tend to expect others to do the work the same way as they do.
You might also like...