Quiz: Are You a Good Public Speaker?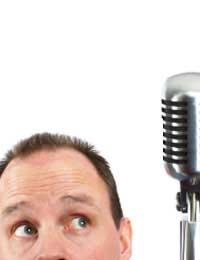 Work through this quiz and note down your responses to the questions. At the end you'll have the chance to convert your answers into points to see how well you scored.
1. What Do You Do With Your Hands While Speaking in Public?
A. Keep them perfectly still
B. Fidget
C. Gesture enthusiastically
D. Gesture naturally
2. How Do You Feel About Smiling?
A. I only smile when I'm happy
B. I only smile when I'm relaxed
C. I can force a smile when I'm nervous and that helps me to relax
D. I am confident and relaxed in front of an audience and smiling comes naturally
3. How Do You Remember What to Say in a Presentation?
A. Prompt cards with the main points for each topic
B. Everything is scripted word for word
C. Presentation slides have all the relevant information on them
D. Just try to memorise it all
4. Can You Control Your Nerves?
A. I go to pieces in front of an audience
B. I am relaxed as long as I have prepared carefully
C. I thrive on the excitement of flying by the seat of my pants
D. I get stage fright, but I'm okay once I get into it
5. What is Your Presentation Style?
A. I read from my script and rarely make eye contact with the audience
B. I talk naturally about my subject and interact with the audience where appropriate
C. I deliver the presentation as I have practiced it, but can't handle interruptions from the audience
D. The material speaks for itself
6. How Do You Look When You Are Presenting to an Audience?
A. I tend to shake or sweat
B. I look nervous and my voice doesn't sound natural
C. Even if I'm a bit worried, I don't tend to let this show
D. I look nervous at first, but become more confident once I've got going
7. How Do You Keep Your Audience's Attention?
A. I interact with the audience and vary the pace of my presentation
B. My material is interesting enough to keep people's attention regardless of how I present it
C. I stop talking once I think people are getting bored
D. I use sound effects and lots of different fonts and colours in my presentation materials
8. How Do You Use Humour in Your Presentations?
A. There is a joke on every slide. I want my audience to enjoy themselves
B. There is no humour at all. I want people to take me seriously
C. I use humour periodically to keep my audience relaxed and involved
D. I always start with a joke to get people's attention
Answers
Award yourself points as follows.
Q1 A 1, B 0, C 0, D 2
Q2 A 0, B 0, C 1, D 2
Q3 A 2, B 0, C 0, D 0
Q4 A 0, B 2, C 1, D 1
Q5 A 0, B 2, C 1, D 0
Q6 A 0, B 0, C 2, D 1
Q7 A 2, B 0, C 0, D 0
Q8 A 0, B 0, C 2, D 1
Rating
0–7 You are not a natural public speaker, but everyone can learn to be more confident at it with practice.
8–11 You are a capable public speaker, but there is still room to improve your technique.
12–16 Congratulations! You are a great public speaker.
You might also like...
I've got 13 but I would like to learn more.
Curly
- 25-Jul-20 @ 7:25 PM
i am capable public speaker, but there is still room to improve my technique.
Pipa
- 25-Jul-20 @ 7:05 PM
8, I am Capable but needs work on my technique
Dave
- 16-Jul-20 @ 2:43 PM
I scored 14.....but will still have to work on my fears and practice more.
Patrick
- 3-Jul-20 @ 11:34 PM
I had 14....I am and can be a great public speaker. But will have to practice more and overcome my fears.
Patrick
- 3-Jul-20 @ 11:32 PM
I scored 10, I realized that even though I'm not good , I'm a capable public speaker
Nita
- 21-Jun-20 @ 10:23 PM
Well, I have scored 10, and I cant complain since it truly reflects me. I get scared of public speaking most times but when i get started on it it flows and I enjoy. I know I can improve on my public speaking if only I can start believing more in myself. I teach Sunday school to help me over come this fear slowly slowly.
Joanne
- 29-Apr-20 @ 7:45 PM
I scored 16, this means I am a good public speaker. I have received applauds by my colleagues on many occasions when I have presented. Presentations and public speaking comes to me naturally, and I have never had a stage fright all my life. I know there is more room for improvement and with practice i would improve. This quiz was very helping. Thank you.
Ambegrey
- 27-Apr-20 @ 2:36 PM
I got 14 points however i answered based onpresentations done so far, there is always room to be best at it in the future
Stelzillion
- 22-Apr-20 @ 12:45 AM
I got 8 points,either i am notgood oreither i am not so bad public speaker.I am improve my public speaking techniques soon.
SANA SHARIF
- 3-Apr-20 @ 12:35 PM
I got 13 and then i got to know myself better and there is still lot to learn and improve.
raju
- 29-Mar-20 @ 8:03 AM
I got 15 points I'll keep working hard to be a good speaker that captures and arrests her audience
Dollyp
- 26-Mar-20 @ 4:49 PM
Thank you I got 11 points I started know about skills this help me to understand myself. I need more practice
Dharani
- 13-Feb-20 @ 2:06 PM
I got 13 points in this test.. still I feel I have to improve myself more.
sreelu
- 5-Feb-20 @ 9:56 AM
I can handle the group, but some times it is difficult to manage the questions
Anitha
- 18-Jan-20 @ 12:00 PM
I got 6 points, I know always that am not a public speaker but i am very confident that i can work on my public speaking and i can get better at it with time.
Katusof
- 13-Oct-19 @ 3:29 PM
I got 10 points I've realize that I can do it if I learn more about public speaking skills.
Silva slin
- 30-Sep-19 @ 8:50 AM
I scored 12, I am still learning to be a better communicator.
Dare
- 8-Aug-19 @ 6:57 PM
I got an 11 am capable but there still room to improve my technique
nyto
- 3-Mar-19 @ 7:10 PM
I got a 5. I guess I need a lot more practice and confidence.
Dodie
- 6-Feb-19 @ 4:36 AM
i got a score of 12-16!! Takes nerves of steel every time I walk up on stage. I'm not born with this talent, I still need to practice, like everything else in life.
RBKJ
- 11-Dec-18 @ 8:36 AM
I got a score 11 and I have seen that there's room to improve my techniques. I need to work more on a. Interacting with audience and vary the space of my presentation. b. Use humor periodically to keep my audience relaxed and involved. c. Even if I'm worried I should not let it show.
DuroFeibo
- 23-Oct-18 @ 10:12 PM
I have got 8, I will do the best to improve my Public speaking.
Moro
- 2-Oct-18 @ 8:53 AM
I got a 3 and its a true reflection, i have to work hard on improving as my job requires that i improve particularly on this skill... :(
Njebza
- 19-Jun-18 @ 3:33 PM
I have scored all 16 Points and it feels so amazing. Even when I got down to the answers i was still answering questions, not realizing it was the actual answers to the questions asked. LOL!!! Thanks to my management team at my place of employment to allow me the opportunity to be doing these courses and quizzes!
Leo
- 13-Jun-18 @ 3:07 AM
l got 12 points and l have realised that i shouldalways vary my presentation pace and interact with the audience .
frankmug
- 24-May-18 @ 3:20 PM
I got 13 points, but I reconize that I need to get more skills to improve my public speaking
Mescalro
- 7-May-18 @ 6:19 PM
@OTI - it's great that you have confidence, not many of us do. I'm always a nervous wreck. But I am getting better and practice does help.
Kat
- 15-Mar-18 @ 12:22 PM
One thing God gave me is confidence, as long as am prepared, I can face any group and speak. Of course in the beginning i will be a bit nervous but, with time become more confident
OTI
- 14-Mar-18 @ 3:48 AM
@gerlie - the more you practise and do it - the easier it gets.
Terri
- 12-Oct-17 @ 4:06 PM