How to Build a Winning Team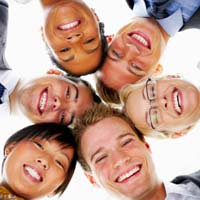 There is a lot more to building a winning team than just employing a group of talented people – although that certainly helps. People want to feel that they are an integral part of a winning team and work for a company that is moving in the right direction, and it is up to a manager to give them this feel good factor.
A manager has to hire people who will work well together and develop within them a shared vision and commitment. He has to bring the team together in formal meetings to openly discuss broad-based issues and also encourage positive, informal interactions between individual team members. It is the manager's job to instil a winning attitude, but also to identify problems such as cynicism and jealousy.
As well as setting goals for the team, a manager has to get his team to buy into the idea of these goals. If a team does not agree with the goals or, worse still, is not clear what the goals are, a manager cannot expect full backing and cooperation.
One Vision
So a manager has to set out his vision and his strategy for getting there and explain why this is the best strategy. Highlight the team's achievements and do not make it a one-time announcement but constantly remind team members of the goals.
It is not possible for a manager to watch over his team all the time and it can be difficult to ensure a team works well together when the manager is not present. There are tactics a manager can employ to encourage this, however.
For instance, why not make a part of the salary review dependent solely upon interaction with others, or create financial incentives based on common goals such as profitability. Try to arrange offices in close proximity and involve team members in the hiring of new team members. Also, build a sense of bonding by taking the team off-site for formal meetings as well as casual get-togethers.
Team Training
Never neglect training, as team members will be motivated to learn if they can see that it will improve their lives and their potential. A manager should make education a top priority and those who do will be rewarded with more team members who can make a difference.
If a manager can create an atmosphere that is as stress free as possible and make the work enjoyable, he can boost productivity, encourage loyalty and allow team members to use their talent and energy to achieve the desired results.
A manager cannot build a winning team without efficient delegation, so don't fall into the trap of trying to do all the important tasks yourself. When delegating, a manager has to clearly define the project. That does not mean he tells the team member how to complete it, rather he explains what results he is looking for and what the benefits will be if the project is successfully completed. Choose a team member who is up to the task and give them the authority needed to achieve it. Once the project is completed, always recognise the efforts and results achieved by the team members.
You might also like...