How to Empower Staff by Delegating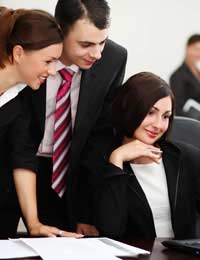 Control freaks do not make good managers. Many so-called managers suffer from this affliction, perhaps feeling their incessant intervention is in some way beneficial or necessary. Maybe they do not trust others to handle tasks properly and fear things will go awry unless they attend to every detail themselves. The result is an inefficient workplace and disillusioned staff.
Effective management is achieved through delegation. A manager must start with the premise that all employees want to do a good job and create an environment where employees are not paralysed by fear of failure.
By delegating authority, a manager can give team members more control over what is achieved. This leadership style will lighten a manager's load, allowing him to concentrate on more important tasks, and help the workforce to learn and grow. The result is an empowered workforce that is less dependent on its manager.
Powerful Motivational Tool
Delegation of work is a powerful motivational tool too, as it shows that a manager has faith in the abilities of their team members. Encourage staff to provide solutions rather than problems and allow people to learn from their own mistakes.
Of course, such a leadership style carries an inherent element of risk and some errors and misjudgments will occur as employees adjust to new responsibilities. Strong leadership skills are required at such times and a manager has to be there to offer assistance and clarification. Ensure team members are aware that mistakes are to be expected during the learning process.
Effective delegation of work relies heavily on the workforce being talented and motivated enough to take on the tasks. Of course, some team members will be better equipped than others, but rather than ignore those without the necessary knowledge, a manager should offer training.
Take a Step Back
To delegate, a manager has to take a step back and allow team members the freedom to carry out their tasks, so rather than continually ask for updates, try to agree on milestones to review progress. Remember, however, that the ultimate responsibility lies with the manager, therefore ensure the employee in question has the skills required for the job. Never allow employees to make major blunders, always be available to answer questions and maintain a non-judgemental, helpful stance.
A manager should be unambiguous and concise when delegating work or authority. Focus on what needs to be achieved rather than how it should be achieved and don't be surprised if the employee decides to tackle the task in a different way. After all, just because a manager is in a leadership role, it does not mean they will always have the best solution. In fact, team members should be encouraged to think of different ways to solve a problem, so ask them to use their own initiative.
Remember it is important to give praise when employees make appreciable progress, so if a delegated task has been successfully completed say "thank you" and "well done". These are two of the most motivational phrases in the workplace and learning to use them on a regular basis has to be the simplest leadership skill of all to master.
You might also like...