Creating a Positive Working Environment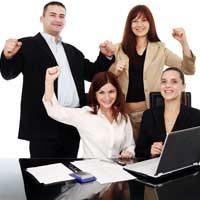 Staff who dread going into work in the morning will not perform at their best. If the work environment is unfriendly and critical managers do not give employees much performance feedback, it can lead to low morale and a high turnover of staff. Employees will watch the clock, desperate to get home.
Conversely, a positive working environment can motivate staff to deliver results. If the manager encourages and shows an interest in employees, they are more likely to show pride in and loyalty towards the company. Regular performance feedback will let staff know where they stand with their supervisors and make work a more enjoyable experience.
To create a positive working environment, a manager must first let their team members know what is expected of them. This means they have to establish specific performance standards, set goals, set deadlines and communicate these expectations clearly. Each employee should have a specific job description.
Make an Effort
Show an interest in team members by calling them by their name, smiling, making eye contact, complimenting their work, asking their opinion and taking their suggestions on board. This takes little effort on the part of the manager but can improve the working environment greatly. In contrast, a manager who ignores employees and their suggestions, does not ask opinions or comment on work, and either does not know or does not use names, can create a depressing environment that will have a negative impact on productivity by making employees feel discouraged, less confident, angry, and stripped of self-esteem.
A positive working environment has benefits for both managers and their team members. When ideas and flexibility are valued and rewarded and employees are encouraged to be creative and take risks, people are more likely to feel part of a team. Managers should not make fun and laughter taboo and should thank team members for their contributions and make them feel appreciated.
Manager's Reward
When a manager is successful in creating such an environment, employees will look forward to coming to work, feel more committed, contribute more ideas, have more self esteem and be more productive. The manager's reward is greater loyalty, a lower turnover of staff, less sabotage and higher productivity. In addition, it will become easier to recruit employees due to the company's reputation for its work environment.
The final step in creating a positive working environment is to recognise and reward good performance. Once employees are working the way a manager wants, it is important for the manager to reinforce their ideals so that these working patterns continue. To achieve this, compliment, thank and smile at staff. If more substantial rewards are in order, consider publicly announcing an employee's achievement or adding a positive letter to their personnel file. An employee may even be worthy of an extra staff discount, time off or promotion.
It is vital for a manager to be clear and specific about the accomplishment that is being recognised. Encourage employees to continue producing such good work in order to increase the chances of the actions being matched and even surpassed in the future.
You might also like...