How to Select the Right Staff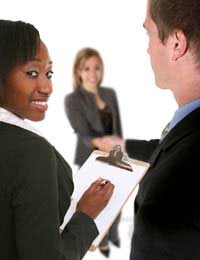 It's easy to recruit staff, the difficult part is recruiting the very best people available. It is a challenge for a manager to find employees who can fit into a team and make a real contribute to the company, but it is an opportunity too.
The first mistake many managers make when recruiting staff is to select new employees from the candidates who answer an advertisement, be it in a newspaper or online. Often the best candidates are working for someone else and may not even be looking for a new position. To get access to this wealth of talent, a manager has to develop relationships recruitment agencies, staffing services, executive head-hunters and university placement offices.
Search online job boards for potential candidates who may have CVs online even if they are not actively looking for a new position, and use professional association websites and magazines, or the employment section of the company's own website, to advertise. This will increase the number of top candidates to choose from.
Look In-House
The first people to be considered should be in-house candidates, as offering existing employees the chance of promotion boosts morale and lets staff know their talents and accomplishments are appreciated. Post positions internally first, and give potential candidates an interview.
Recruiting top talent will be easier if the company is known as a great employer. To become an employer of choice, examine key areas such as employee retention, motivation, promotion, reward, recognition, accountability and flexibility in work-life balance. Candidates will believe employees more than corporate literature, so it helps if employees are bragging about the company being a great place to work.
Employees can play a significant role in recruiting new talent. They may be able to recommend excellent candidates, review the resumes and qualifications of potential candidates, or even help interview people to assess their potential fit within the company. Existing employees are often underutilised when hiring staff, but remember those involved in the selection process will be committed to helping the new employee succeed, which is great news for both the company and the new recruit.
Pay for Best Candidates
If a manager wants to turn head-hunter, the company has to be willing to pay better than its competition. In general, the best payers attract and keep the best candidates. Like salaries, benefits should be above industry standard if a company is to succeed in recruiting the best. Recruiting employees on the cheap is a bad practice in any case, as the recruit will feel unappreciated and leave at the first sign of a better offer. A head-hunter will have to pay more than a candidate's existing employer to have any chance of success.
Recruit a candidate who has talent, knowledge and specific experience of the job and industry, rather than a candidate with promise who will need to be given time to train and develop before being able to do the job effectively.
Employment can be a tricky business, so check references carefully, even if utilising staffing services. Do background checks and pursue every avenue to assure that those hired can do the job.
You might also like...