How a Manager Dissolves Conflict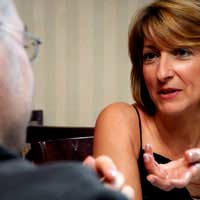 When arguments escalate, a manager has to dissolve any conflict by acknowledging differences, showing empathy, talking the problem through and finding areas that can be agreed on. Disagreements can be creative if a manager can redirect the conflict to find productive solutions that aid the development of the company.
If faced with a dispute, take a deep breath and try to diffuse feelings of conflict and anger quickly. A manager has to empathise with the other party's feelings and be open about their part in any misunderstanding. Only then can a manager begin to work towards constructive resolutions to the problems.
Often the anger involved in a conflict can be discharged if a manager shows that they understand the employee's feelings. At the very least, staff will appreciate that a manager has listened. Of course, it is not necessary to agree with someone about every point. Equally, a manager should not accept criticism if they do not agree with it.
Listen to Different Views
Respect diversity and everyone's right to disagree. By outlining the other party's viewpoint, a manager can reinforce the message that they are listening and understand all the different views, even if they do not necessarily agree with them.
Assume that there is no one right answer and talk problems through in order to find a mutual understanding. A manager should initiate dialogue by being open and if they may have contributed to the other person's anger, they should say so in a way that does not seem like an admission of guilt. For instance, a manager can admit they are sorry that a conflict has arisen and express a desire to bring about a resolution.
It is important to find neutral ground. Look at the facts and keep the views of the protagonists to one side. This can help cast a fresh light on the disagreement and allow the parties to work together to find a solution.
Diffuse Anger
Friction between managers, teams and departments is common in corporate life and destructive conflicts can crush staff morale and erode efficiency, hampering the development of the company. By stepping in to manage disagreements, a manager can diffuse anger and bitterness and get everyone pulling in the right direction once more.
Examine the causes of a misunderstanding, focus on agreements and find solutions. The key to conflict resolution is to find out what each party wants and what they are willing to give to the other party in return.
There are different ways to manage different types of conflict. For instance, if an employee is defensive, explain that blame is unconstructive and switch the focus to conflict resolution. When a team member feels undermined and with good reason, admit that they should have been consulted. If there is a lack of trust, ask for any differences to be put in the past, and when faced with obstacles, try to focus on things that can be influenced. Most importantly, if an employee is aggressive, suggest there is a better way to come to an agreement.
You might also like...