Quiz: Are You a Good Public Speaker?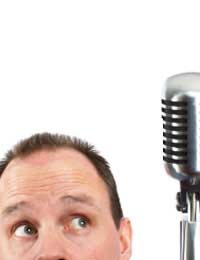 Work through this quiz and note down your responses to the questions. At the end you'll have the chance to convert your answers into points to see how well you scored.
1. What Do You Do With Your Hands While Speaking in Public?
A. Keep them perfectly still
B. Fidget
C. Gesture enthusiastically
D. Gesture naturally
2. How Do You Feel About Smiling?
A. I only smile when I'm happy
B. I only smile when I'm relaxed
C. I can force a smile when I'm nervous and that helps me to relax
D. I am confident and relaxed in front of an audience and smiling comes naturally
3. How Do You Remember What to Say in a Presentation?
A. Prompt cards with the main points for each topic
B. Everything is scripted word for word
C. Presentation slides have all the relevant information on them
D. Just try to memorise it all
4. Can You Control Your Nerves?
A. I go to pieces in front of an audience
B. I am relaxed as long as I have prepared carefully
C. I thrive on the excitement of flying by the seat of my pants
D. I get stage fright, but I'm okay once I get into it
5. What is Your Presentation Style?
A. I read from my script and rarely make eye contact with the audience
B. I talk naturally about my subject and interact with the audience where appropriate
C. I deliver the presentation as I have practiced it, but can't handle interruptions from the audience
D. The material speaks for itself
6. How Do You Look When You Are Presenting to an Audience?
A. I tend to shake or sweat
B. I look nervous and my voice doesn't sound natural
C. Even if I'm a bit worried, I don't tend to let this show
D. I look nervous at first, but become more confident once I've got going
7. How Do You Keep Your Audience's Attention?
A. I interact with the audience and vary the pace of my presentation
B. My material is interesting enough to keep people's attention regardless of how I present it
C. I stop talking once I think people are getting bored
D. I use sound effects and lots of different fonts and colours in my presentation materials
8. How Do You Use Humour in Your Presentations?
A. There is a joke on every slide. I want my audience to enjoy themselves
B. There is no humour at all. I want people to take me seriously
C. I use humour periodically to keep my audience relaxed and involved
D. I always start with a joke to get people's attention
Answers
Award yourself points as follows.
Q1 A 1, B 0, C 0, D 2
Q2 A 0, B 0, C 1, D 2
Q3 A 2, B 0, C 0, D 0
Q4 A 0, B 2, C 1, D 1
Q5 A 0, B 2, C 1, D 0
Q6 A 0, B 0, C 2, D 1
Q7 A 2, B 0, C 0, D 0
Q8 A 0, B 0, C 2, D 1
Rating
0–7 You are not a natural public speaker, but everyone can learn to be more confident at it with practice.
8–11 You are a capable public speaker, but there is still room to improve your technique.
12–16 Congratulations! You are a great public speaker.
You might also like...
I scored 6. This implies I'm not a natural public speaker but can learn to become better at it with practice.
P.A Duodu
- 9-Nov-23 @ 8:57 AM
I got 10 ponts
Flo
- 10-Aug-23 @ 12:27 PM
I got 11 points. So i am planning to improve and become a public speaker. Thank you 'The Managers Guide'.
Saravanan
- 31-Jul-23 @ 7:43 AM
I have scored 10 I can be a good public speaker.
Papri Mukhopadhyay
- 27-Jul-23 @ 1:16 PM
I scored 16 Congratulations to my self!
Shenshen
- 14-Jun-23 @ 10:41 AM
I scored 14, however, I believe that there is still room for improvement.
N/A
- 11-May-23 @ 1:54 PM
I scored 14 I want to learn more about public speaking
La duchesse
- 27-Mar-23 @ 12:43 PM
I scored 13
sugi
- 6-Feb-23 @ 4:24 AM
My Score is 14.
SHAHAJI DETHE
- 31-Jan-23 @ 11:31 PM
My score is 6 . and I should practice more about it.
Babai
- 22-Jan-23 @ 2:02 AM
My score is 9 . I realized that , l am a capable speaker
Very good nice knowledge provide. My score is 12.
Vpatel
- 21-Oct-22 @ 11:33 AM
I've scored higher than I had expected coming in at 13 points. Been a while since Ive spoken publicly, not sure I would deliver like the score suggests!
Pilki
- 5-Aug-22 @ 12:21 PM
I got 13 points, I may be good great public speaker but I still want to learn and understand more techniques in speaking skills.
hazard
- 26-Aug-21 @ 9:13 AM
I've scored 11, i still need to learn more techniques.
Tsaki
- 3-Jul-21 @ 11:19 AM
scored 11 points, a capable speaker but there is still lots of work to be done.
Rebecca
- 20-Apr-21 @ 10:14 AM
I got 9 there's room for improvement,buh I don't think am bad at public speaking
Praise
- 27-Mar-21 @ 7:03 PM
Igot 16 points, I may be good at public speaking
winnie
- 17-Mar-21 @ 3:16 PM
It is a very good assignment. My score is 7
Santi
- 17-Jan-21 @ 12:10 PM
Really very good assignment. I got 9 marks
Bhavik
- 12-Jan-21 @ 2:29 PM
Thank you I have got 11 Points and I am working on my speaking techniques.
Anu
- 21-Sep-20 @ 7:15 AM
I got 7 points.I am not a natural public speaker. And there is always chance to learn how to be and do it with more confidence.
Yvonne
- 20-Aug-20 @ 12:07 PM
It makes me agood speaker because I use to speak public at church standing atthefront ofpeople .
Ashley
- 17-Aug-20 @ 2:19 PM
I've got 13 but I would like to learn more.
Curly
- 25-Jul-20 @ 7:25 PM
i am capable public speaker, but there is still room to improve my technique.
Pipa
- 25-Jul-20 @ 7:05 PM
8, I am Capable but needs work on my technique
Dave
- 16-Jul-20 @ 2:43 PM
I scored 14.....but will still have to work on my fears and practice more.
Patrick
- 3-Jul-20 @ 11:34 PM
I had 14....I am and can be a great public speaker. But will have to practice more and overcome my fears.
Patrick
- 3-Jul-20 @ 11:32 PM
I scored 10, I realized that even though I'm not good , I'm a capable public speaker
Nita
- 21-Jun-20 @ 10:23 PM
Well, I have scored 10, and I cant complain since it truly reflects me. I get scared of public speaking most times but when i get started on it it flows and I enjoy. I know I can improve on my public speaking if only I can start believing more in myself. I teach Sunday school to help me over come this fear slowly slowly.
Joanne
- 29-Apr-20 @ 7:45 PM