What Style of Management Do You Exhibit?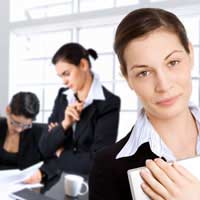 Some managers have their own individual working style that has been built up through work experience and recognising how to get the most productive results. Others promote one or a combination of the more typical management styles that fall into a distinct category.
The Democratic Manager
Democratic managers will use delegation methods to empower their employees to complete tasks and duties using their own methods. This is a motivating management style, and although tasks must be completed on time this style does give employees a degree of responsibility.
Staff can use their own judgement and decision making skills to decide the best way to complete the task. Downsides to this management style may be that managers do have to consult staff before making further decisions. Employees who are allowed to work in this way may not always work to their full potential if given a large degree of flexibility.
The Autocratic Management Style
An autocratic management style is more controlling when compared to the democratic style. Autocrats will make decisions themselves without consulting employees and will then give the employees their orders. This type of management style allows managers to stay in control, and tasks are usually completed within a set deadline. Disadvantages are often a lack of employee motivation due to an absence of communication. The autocratic style has also been known to widen the gulf between management and employees, and can be responsible for a high staff turnover due to unmotivated employees.
The Paternalistic Manager
This managerial style is still authoritarian but it does come with a more paternal or fatherly approach. Paternalistic managers are firm but fair to their employees giving reasons for their actions and taking employee's personal lives into account. This approach can lead to staff feeling motivated and part of a larger team; they are seen as people not just company assets. The disadvantages are that employees may rely too much on the manager and they can also expect managers to be infallible.
Consulting Managers
Consulting managers are a combination of both autocratic and democratic management styles. This type of manager will consult their employees and take into account their employee's views when it comes to work related tasks. The ultimate decision on how to proceed will then be left with the manager. Often thought to be one of the best management styles it does help to motivate employees with their views and opinions bringing them together as part of a team.
Minimal Involvement Management Style
Managers who have minimal involvement and give employees absolute freedom to complete tasks are known as laissez faire managers. This type of manager is on hand for consultations and to coach employees on completing tasks if needed. Again, this type of management style does help employees develop responsibility and boosts motivation. The downside is that employees can take too long to complete tasks when left completely to their own devices. Managers who take this approach can sometimes be seen as too 'hands off' by employees and not concerned with being part of the team.
Common Management Style in the UK
In the UK the most popular management style is a combination of autocratic and democratic with a large degree of participation. Participation between managers and employees in the UK seems to have become the norm and more managers are moving over to this style of management. Not all countries around the world use this style; for instance Russia still uses the autocratic approach while democratic management is more common in USA and Australia. The laissez faire management style is considered the least used and least productive management style by most businesses.
Choosing a Management Style That Works
There are a number of factors to be considered before actually choosing one of the above management styles. Managers do need to focus on their overall short and long term objectives and the best way to achieve these through their employees. Employee's personalities must also be taken into account as not every employee will react favourably to a certain management style. Managers should not be against changing their style from time to time to suit the workplace in order to maximise productivity.
No management style is set in stone and having a flexible attitude will usually give managers an advantage. Good managers should be able to recognise the style that works best within a workplace and with certain employees. Less experienced and experienced employees will usually benefit from different management styles. It is up to the manager to recognise the best style that will obtain the most from their employees.
You might also like...