How to Develop Leadership Traits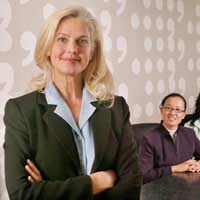 Good leaders are developed through an ongoing process of training, study, education and experience. Any manager with the desire and willpower can become an effective leader, but if a manager is to inspire employees to achieve greater levels of teamwork, there are certain things they must be, know and do.
These leadership skills do not come naturally, but are acquired through constant work and study. The best leaders do not rest on their laurels but strive continually to improve their leadership skills. Anyone keen on management should look to develop particular traits. Prospective managers should be:
Honest – Be sincere and show candour and integrity in all actions. Deceptive managers do not inspire trust.
Straightforward - Make good decisions at the right time by using sound judgement.
Innovative – Think of new and imaginative ideas, improvements, goals and solutions to problems.
Forward-thinking – The best leaders can visualise what they want and how to get it, so set goals and have a vision of the future that can be adopted by the entire team.
Intelligent – Read and study as much about the business as possible and become an authority on the subject.
Inspirational – Show mental and physical stamina to inspire others to reach new heights.
Confident – A leader should show confidence in all they do.
Courageous – Even in stressful times, those in management roles must remain calm and confident and have the perseverance to accomplish a goal when faced with seemingly insurmountable obstacles.
Broadminded - Seek out and embrace diversity.
Just – Be fair and sensitive to the feelings, values, interests and well-being of others.
Creative - Make appropriate and timely changes to methods, plans and ways of thinking.
Competent – Those in management must base actions on reason and moral principles and not give in to feelings or emotional desires.
Dynamic – Enthusiastic and energetic leaders will find these traits are infectious.
Strong – Good leadership means taking charge when necessary.
Loyal – Those in management roles expect loyalty from team members and if a leader wants to build trust they must return that loyalty.
Decisive – Strong leadership requires decisions to be made, so don't sit on the fence.
Dependable – Employees need a leader they can rely on.
Approachable – It should be easy for team members to approach a manager for guidance and support.
Leadership training can prepare people for management and can be of benefit whether a manager has been in the job for 10 days or 10 years. There is always a new management model on the horizon and keeping up to date allows a manager the flexibility that is essential to success. These days, leadership training courses cater for all aspects of management, including motivation, team building, managing change, communication, time management, presentation, conflict resolution, emotional intelligence and negotiation.
Courses can be arranged in-house or take place at open workshops. In-house seminars offer bespoke training structured around the specific needs of a business or team and can encourage a manager to develop their own adaptable, personalised management style. Open training can be more cost-effective, however, and can be available to individuals or small groups at short notice.
You might also like...