The Advantages of Being a Manager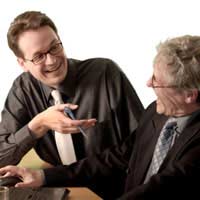 It is not too difficult to find advantages that come with the position of manager. Perhaps the most obvious plus is the pay, but the job will also deliver a certain amount of power and prestige, as well as a sense of personal achievement.
It is often said that money can't buy happiness and, of course, that is true. Nevertheless, money can buy a nice home and car, luxury holidays and other comforts that can contribute to happiness. The best things in life may be free, but there are many nice things that are expensive and by becoming a manager, these things may be affordable.
Management positions tend to be the best paid in most companies. The top manager in a company, typically the chief executive officer, is paid more than anyone else and the managers a rank below the CEO are paid more than the rest. Of course, there are some exceptions to this rule, but people are paid according to their value to the company and, in most cases, those who manage are top of the pile.
Power is Perceived
Much of a manager's power is perceived rather than real. It is true that the majority of managers will be delegated a degree of authority. This gives them the power to carry out certain tasks, such as set work schedules, appraise staff, organise training, settle disputes and perhaps even have a say in staff discipline, recruitment and the growth and direction of the business.
Yet true power cannot be delegated from above. A modern manager does not have the power to rule the workplace; rather they are the leader of a team. Of course, as a leader they can be greatly influential, but their only real power comes from the strength and success of their team and the willingness of their team members to grant them power.
In today's society, people value titles. A Senior Vice-President, Worldwide Distribution may, in fact, be in charge of a handful of employees in the packing department of a small company. Nevertheless, they has an impressive title and with that title comes status.
Be a Success
All this points to a career in management for those motivated by money, power and prestige. These aspirations are the very definition of success for many people and have been the catalyst for countless managerial careers.
It's not all about bragging rights and scoring points, however, as a career in management can offer other advantages. For a start, there is the sense of personal achievement. The opportunity to manage people and the added responsibility that goes with it can provide a fresh challenge, and the first step into management can open a whole new range of career options, with training courses and seminars awaiting those with ambitions to rise through the ranks.
Contrary to popular belief, it is even possible to be a manager without jeopardising friendships or a good night's sleep. In fact, a management role can help forge new friendships and, at the same time, be relatively stress-free.
You might also like...
Leadership is not for sale , to be a leader is all about your behavour Every manager is a leader and should be responsible, creative,visionable , and innovative . A leader should have empathy which willenable him to understand others.
prof
- 12-Feb-17 @ 6:11 PM